Kostrzewa Farmer Bio
The Farmer Bio model surprises with functionality, usability and high quality of workmanship. Farmer Bio will satisfy even the most demanding clients.
Farmer Bio boilers are the perfect choice for:

  single-family houses

  multi-family houses

  small farms
Advantages of the Farmer Bio boiler:
The very good and durable steel exchanger of the boiler has been designed according to the 3T definition (time, turbulator, temperature).

Fuzzy Logic 2 facilitates operation of the unit and reduced volume of fuel used.

The volume of air  necessary for combustion  is determined with the lambda probe (automatically dosed air).

Functionality: the design of the exchanger allows installation of the burner, the container and all the doors to the left or right of the unit.

Low temperature: all the doors of the exchanger are encased with high-quality insulation material to limit losses of heat: NEW

Easy electrical installation: all the additional devices and sensors are connected with blocks under the case. The wires are run at the back of the unit. The solution employed results in impeccable aesthetics.

Generation 3 automatics: the compact board  with all the modules: NEW

The container and the boiler case are painted with powder paint  to ensure permanent protection against corrosion over long years.

Easy assembly and dismantling of the insulation.

The fuel container is very large (295 l),  made as a container with gas actuators to facilitate lifting of the door.

The stainless steel screw guarantees very high resistance to corrosion and high temperature.

A large charging chamber allows combustion of manually fed fuels (wood) on the additional grate.
Fuel types
pellets, oats, sunflower pellets, grape stones,  hazelnut shells, olive stones, pea coal, fine coal, wood (manually loaded)

  NOTE
Granulate fuel is charged into a very high capacity container. Filling in this container depending on demand for energy in the building will allow unattended operation of the unit for 7 to 30 days.
Automatics
Logic 2 Pellets Fuzzy for automatic modulation of power of the burner  to reduce the volume of fuel used by ca. 20% and to reduce consumption of electricity
​
Burner
The cast iron rotating burner with the nozzle allowing combustion of high ash content fuel.
​
Exchanger
The tri-duct, steel boiler exchanger made of P265GH 4-6 mm boiler steel.
Back view of the Farmer Bio boiler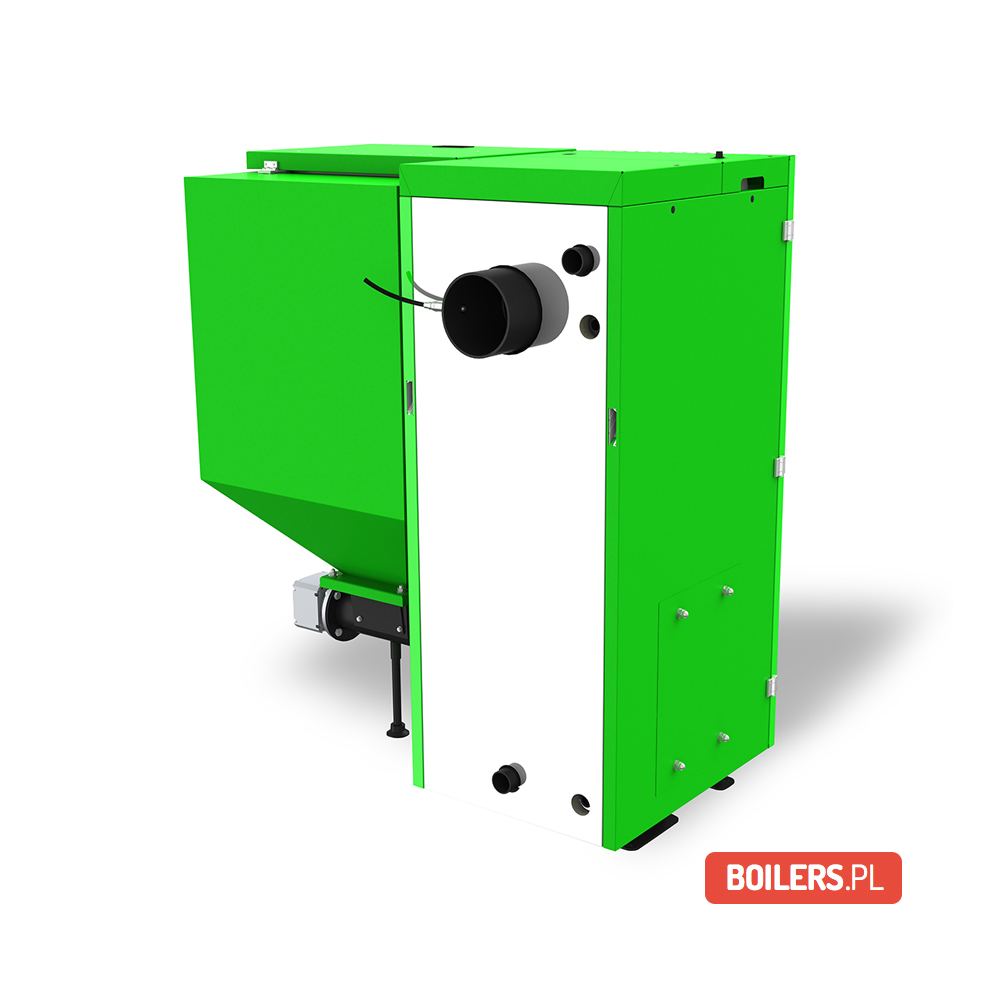 Pellets

Pea coal

Wood

Coconut

Fine coal

Oats

Agro pellets

Grape stones