UNIWEX COMFORT RT
Power:
300/350/500/600/780/980/1250/1500/1800/2000/2500/3000kW
The COMFORT biomass water boiler. This is a basic line in the portfolio of our Company. The following models are available: CLASSIC, CLASSIC RS, CLASSIC RT and PREMIUM. They are well-suited to the heating requirements of various industrial areas:

  Carpentry shops

  Drying rooms

  Warehouses

  Greenhouses
These are low-temperature devices and are used in water systems - either open or closed.
Their advanced design ensures a wide selection of technical equipment with respect to fuel and any individual requirements of the user.
The most important advantage of these devices is their low fuel consumption while remaining highly efficient. Achieving such parameters is possible thanks to the use of the appropriate proportions in the heat exchanger's surface. This affects maintenance of optimum combustion and increases the flow resistance of the exhaust gases.
COMFORT RT Series
part of a group of low-temperature boilers intended for water installations of an open or closed system

efficient thanks to horizontal flues, fully utilises their thermal energy

automatic fuel supply as standard

fuel feeding method: piston feeder, ceramic combustion chamber

moveable grill - ideal for burning wet, contaminated fuel of various kinds

intuitive and user-friendly control

ecological burning

increased resistance to exhaust gas flow

easily cleaned boiler made of materials with extended utility life

external thermo-insulation

possibility of adapting parameter configuration and accessories to the customer's requirements

simple to operate and maintain with automatic ash removal and  multi-cyclone as standard

exhaust fan for flue gases provides sufficient negative pressure in the combustion chamber

thermostatic fire-protection valve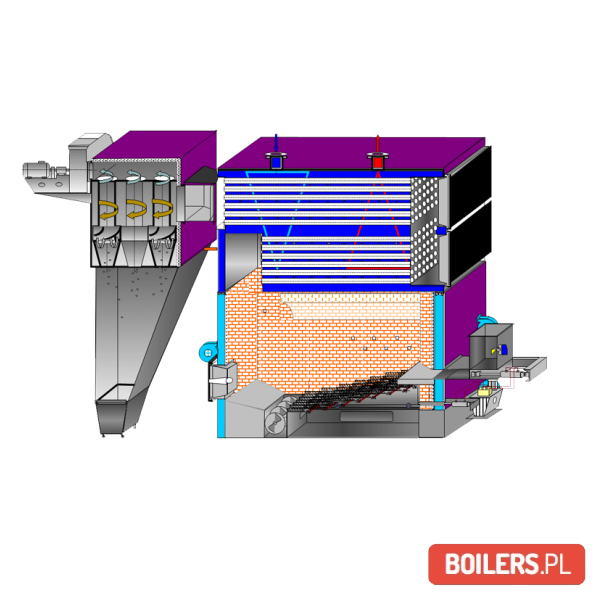 Pellets

Biomass

Chips