UNI-MAX PERFECT ECO-BURNER
Power:
25-80/100/150/200/250/300/500
ECO-BURNERS in the UNI-MAX PERFECT version are equipped with a moveable grate segment in the form of a pull-out drawer for cleaning. This is a patent-protected solution with a ceramic insert which stabilises combustion conditions and the innovative system of its self-cleaning hearth whereby combustion by-products, such as ash and slag, are collected in the outer container and do not collect in the boiler. This significantly extends maintenance-free operation.
They also have a patented air distribution system in the burners which can raise the temperature in the combustion chamber by an additional 200°C thus allowing the post-combustion of any gases which, in turn, results in very low carbon dioxide emission levels when compared to the burning of gas or oil.
Advantages of the UNI-MAX ECO-BURNER:
Patented automatic slag removal system of the hearth where the slag falls into the outer container at the front of the boiler; this solution results in the greatly reduced need to clean the boiler

Heat-resistant steel, segmented grate ensures durability

Stepped moveable grate effectively empties the hearth of slag

The burner starts and ends its operation with a clean hearth

The ceramic chamber of the burner increases and stabilises the combustion temperature

The patented air distribution system determines the quality and efficiency of the combustion

Power modulation - the burner consumes only as much fuel as is required

Step-less regulation of burning power in the range from 25% to 100% of the rated power

Intended as a built-in fixture, the UNI-MAX ECO-BURNER does not require to be dismantled either for cleaning or for maintenance

Over 50% savings when compared to oil heating The Swiss-made drive in the moveable grate comes with a 5-year warranty

Reliable and durable equipment

Low power consumption - energy class A+
Types of Fuel
Pellet
Includes
A complete burner with C.H. and D.H.W control sensors, wiring, a "spiro" pipe for connection to the burner with a feeder of standard length:
1.5m - for  up to 40 kW burners inclusive

1.95m - 50-80 kW burners inclusive

2mb - 100 kW burners and greater
Feeders with direct feeding with lengths of up to 3m and supplementary feeders for fuel in the tank up to 6 m long with automatic maintenance of the pellet level in the hopper
Rear Projection of the UNI-MAX 'PERFECT' ECO-BURNER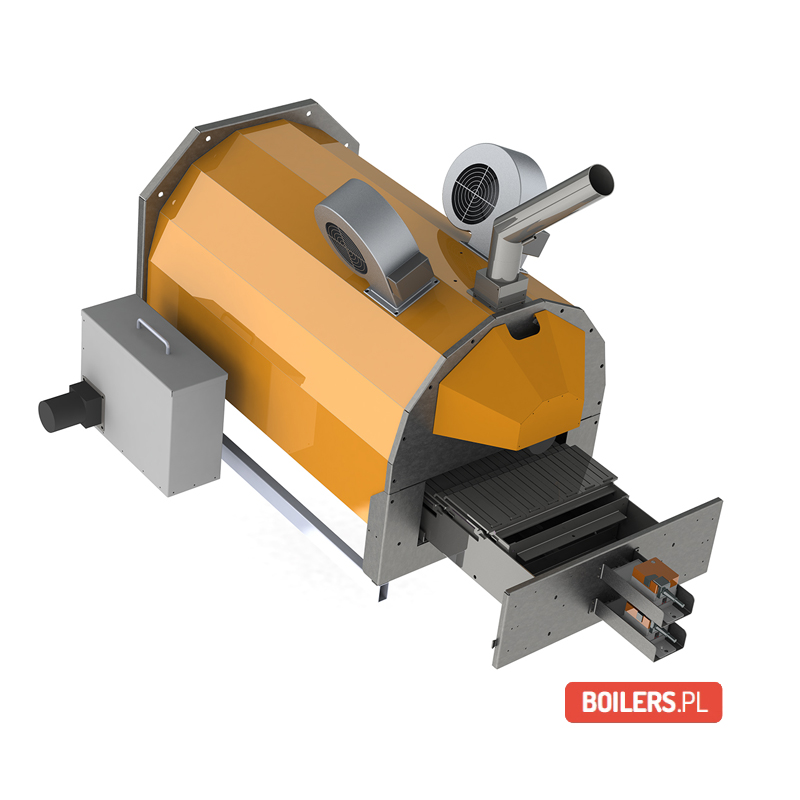 Pellets