THE UNI ECO-BURNER
The UNI version  of ECO-BURNERS is a wood- pellet burning boiler, designed to burn pellets of inferior quality, additionally. The boilers are equipped with a self-cleaning system in the form of a dual, moveable grill.
This grill is made of 4 mm thick, 1.4841 Grade, sheet metal, heat-resistant to an air temperature of up to 1150 ° C. The grill is driven by a linear actuator which self-activates periodically to clean the furnace of excess slag
Advantages of the UNI-MAX ECO-BURNER:
The UNI burner - with its moveable grill, can burn inferior quality pellets

The burner is made of high quality materials and is heat-resistant, acid-resistant and of stainless steel construction

Installation is in the boiler door

Fully automated for fire setting, fire extinguishing, stand-by mode  

Adjustable power

The compact design and dimensions allow installation in most oil and gas boilers with a closed combustion chamber,

High efficiency - approximately 94%

Low power consumption - about 20W during operation

Eco-friendly, low emissions - emission at the level of gas and oil burners

Can be used in conjunction with a room thermostat

Self-activating turn-off and turn-on of the burner's power supply in case of power outages

The boiler cannot overheat during a power outage

Maintenance is limited to refilling the fuel tank, the periodic cleaning of the burner's furnace and the weekly removal of ash
Types of Fuel
biomass, pellet
Includes:
 A complete burner with C.H. and D.H.W. sensor control, wiring and a standard length, 1.5m "spiro" pipe for connecting the burner to the  feeder

Feeders are available with direct feeding lengths of up to 3m; supplementary feeders, up to 6m in length, are available for re-fuelling the tank. A special feature is the automatic maintenance of the level of the pellets in the tank.
Rear View of the UNI ECO-BURNER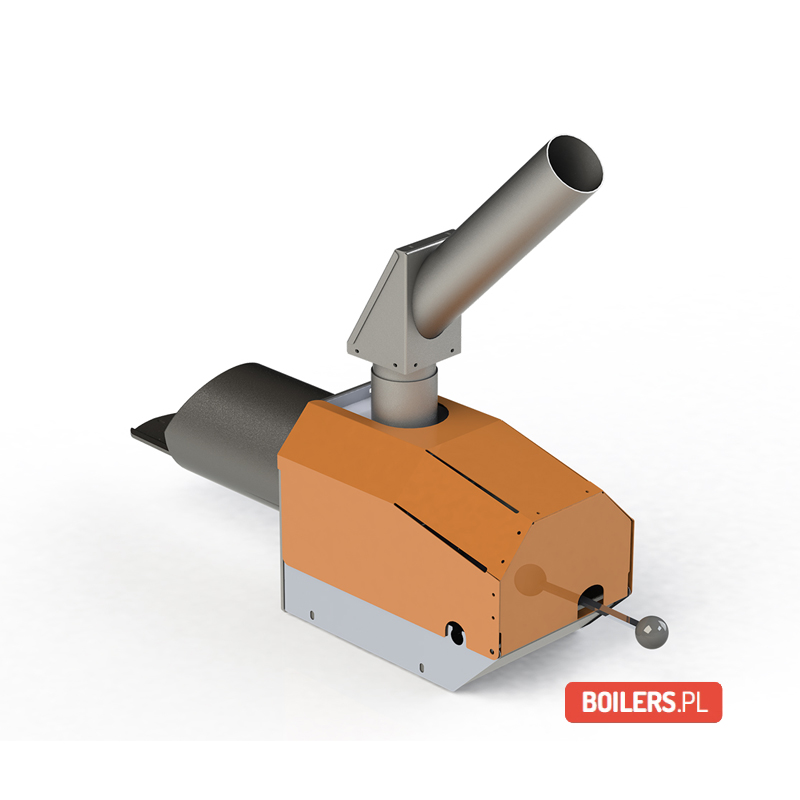 Pellets

Biomass