The PLUS ECO - BURNER
The ECO-BURNER in the Plus version is a one-jacket burner and grill made of heat-resistant, metal sheeting which can be removed for cleaning.  These burners are designed to burn good quality wood pellets; the post-combustion residue is removed from the furnace by means of a blast of air.
Advantages of the PLUS ECO-BURNER:
The burner is made of high quality materials, heat-, acid- and corrosion-resistant steel

Installation is in the boiler door

Fully automatic operation of ignition sequencing, fire extinguishing, stand-by mode, etc.

Adjustable burner power;

Compact in design and dimensions facilitating installation in most closed, combustion chamber oil and gas boilers,

High efficiency - at approx. 94%

Low power consumption - about 20W during operation Eco-friendly, low emissions of fumes - similar to gas and oil burners

Functions in conjunction with the room thermostat

The burner automatically switches itself off/on during electricity outages

No overheating of the boiler during power outages

Maintenance limited to refuelling the tank, periodic cleaning of the burner furnace and the weekly removal of ash
Types of Fuel
biomass, pellet
Comprises:
A complete burner with C.H. and D.H.W. sensor control, wiring, a "spiro" pipe for connecting the burner to the feeder; the pipe has a standard length of 1.5 m.

Feeders are available for direct feeding with lengths of up to 3m. There are also supplementary feeders for fuel in the tank up to 6 m long with automatic maintenance of the pellet level in the hopper.
Rear View of the PLUS ECO-BURNER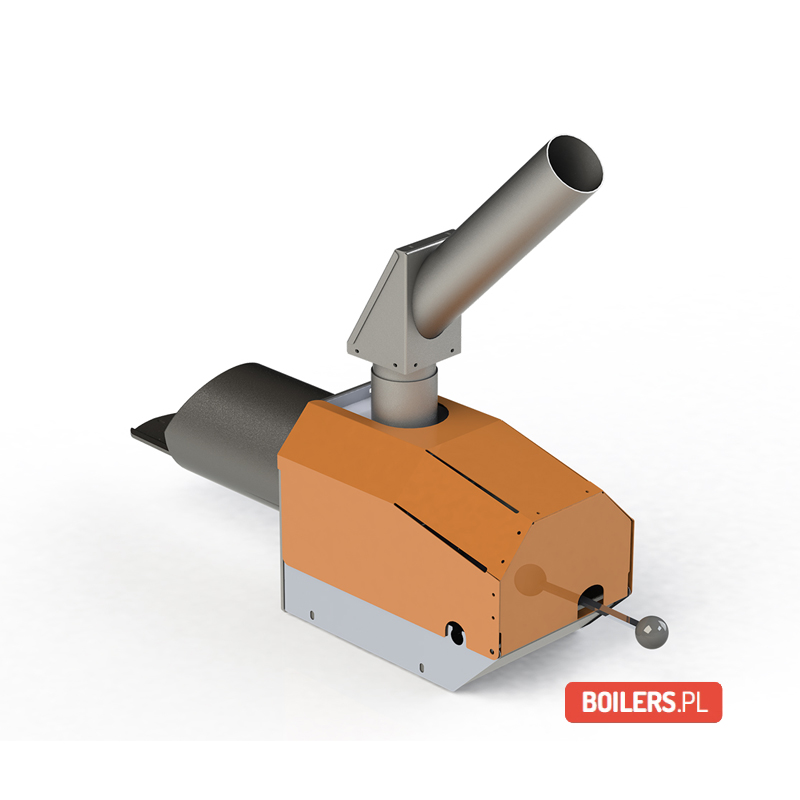 Pellets